eProcurement Platforms are quickly becoming a core part of the enterprise cloud landscape, enabling the digitization of procure-to-pay processes and transactions between buyers and their suppliers. As more procurement groups continue to evolve through their digital transformation journeys, the innovative technology that enables them becomes critical to ensuring that they remain agile enough to respond to changing business needs.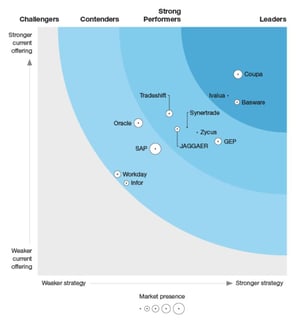 This Forrester Wave™ report evaluated 12 major procure-to-pay vendors across a broad set of criteria and recognized Ivalua as a Leader based on our scores in the current offering and strategy categories.
We believe our position as a Leader is largely due to:
Our customers and their continued success in meeting their objectives and realizing value quickly

Our strong, scalable, and tightly integrated procure-to-pay solution




We're honored and inspired to once again be recognized for eProcurement excellence and will continue investing in our customers' success.