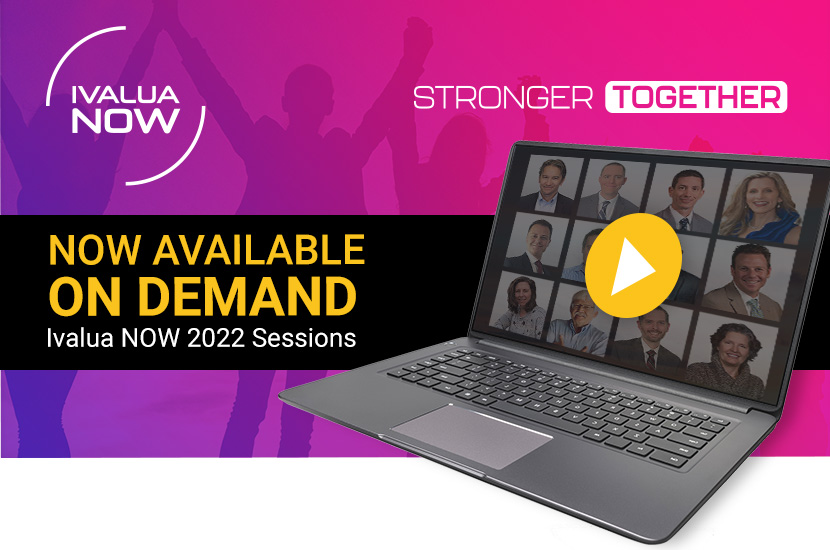 Ivalua NOW 2022 was the premier event for Procurement and Supply Chain leaders looking to restore growth through innovation and build resilience within their organizations.
The three-day virtual event featured a number of compelling speakers who presented their vision and progress in transforming their organizations. We are delighted to provide you with access to all of the replays on-demand, including:
Rethinking Procurement
Tony Long and Mark Krause - Honeywell

Building the Sourcing organization for tomorrow
Yannick Caharel - Bulgari

Optimizing Direct Material Sourcing to Create Long-Term Value: A Q&A with BorgWarner's Brad Hogerheide
Brad Hogerheide - Borgwarner

Measuring eProcurement Success: A Q&A with the State of Ohio's Andrew Cochran
Andrew Cochran - State of Ohio

Connecting the Dots Between ESG Objectives and Source-to-Pay Processes
Emily Rakowski - Ecovadis
Antoine Heraud - Capgemini

Lessons from Innovation in Federal Procurement – A Panel Discussion
Ben McMartin - Public Spend Forum
Ben Marglin - Karsun Solutions
Bonnie Evangelista - Joint Artificial Intelligence Center (JAIC)

Deploying Data Integrity across the Supply Chain Cycle
Joe Yacura - IADQP
Geoff Gates - Cleveland Clinic

Evolution to Accommodate Growth
Dana Vader - NFCU

Cradle to Cradle in the Circular Economy: Designing for Safe and Shared Abundance




William McDonough

Access all the REPLAYS now!