Hi there,
How are you addressing complexity, cost reduction and efficiency?
"We've achieved a better than 20% reduction in our costs at a time of growth. That is what I mean when I call it a transformation!" - Mariano Legaz, Senior Vice President and CPO of Sprint.
Leading Telco companies such as Sprint, Deutsche Telekom, Orange, Maxis, RigNet & Bell Canada partner with Ivalua to automate operational processes, to boost compliance, risk and performance, to find cost saving opportunities across the Source-To-Pay continuum and in order to:
Realise savings across all areas of spend: direct, indirect, services
Automate the S2P process: supplier information, complex category and contract management including contract risk management
Enhance collaboration and visibility: real-time analytics, supplier portal and supplier and risk management
Read the full story on Transforming Sprint's Supply Chain below. We loved it!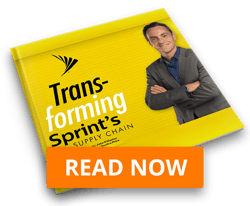 Kind regards,
Marion Bertrand
Field Marketing UKI